Changing your password on cPanel is very simple. Here is a walk through guide for assistance:
Start by hovering over your user preferences in the top right corner. This will be the user name you used to log in. In this tutorial, the user name is
nicetry

Clicking on it will bring up a menu, click on
password and security
.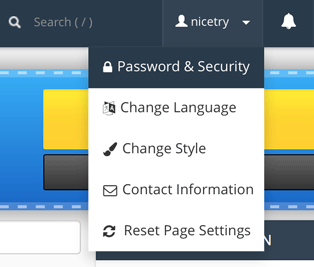 This brings up a page where you will need to supply your old password and then create your new one. 

We recommend using the
password generator
for optimal security.

Once you've put in your new password, click
Change your password now!
and you are all done.
Note: if you have Windows Vista, Windows 7, or Windows 8, you will need to check the
Enable Digest Authentication
box.